About Clear Aligners
Though many consider clear aligners to be a revolutionary advancement in the field of orthodontic treatment, they are relatively newer compared to treating patients using braces. You may wonder why Dr. Horsey might recommend clear aligners for your straightening needs. Here is some information that may be useful in deciding whether to seek treatment with clear aligners.
Like braces, clear aligners:
Can treat a wide variety of orthodontic issues, including crowding, crossbite, underbite, overbite, and gapping
Safely and effectively straightens and aligns teeth
Creates a healthier and more beautiful smile
Unlike braces, clear aligners:
Does not require limiting the foods you can eat during treatment.
can be removed to allow you to eat, brush, and floss normally
Requires fewer office visits than braces
Causes less irritation and discomfort than braces
Is virtually invisible
To learn more about clear aligners or to request your free initial consultation, please contact our office.
The Clear Aligner Process With Invisalign
The Invisalign process uses a fully customized treatment plan for your individual needs. First, we will take X-rays, photographs, and impressions of your teeth. We use these images and impressions to create a digital 3D model of your mouth and teeth.
Next, we will map out the precise movements of each tooth to reach its proper placement and angle. Your customized treatment will use this map of tooth movement to ensure accuracy and beautiful results. With this 3D model progression, you will be able to see your planned results before your treatment even begins.
Once we have created your personalized plan, we can use the Invisalign technology to show how your teeth will look during each stage of your treatment. We fabricate a series of clear aligners designed to fit exactly to your teeth. These aligners will guide your teeth to gently shift over time into their proper positions.
You can remove the aligners for meals and dental hygiene, but you should wear them at all other times for the best results. Treatment with Invisalign will generally take 6-18 months, depending on your age and specific case. Contact our office to request your Invisalign consultation.
Digital Oral Scanners
With digital oral scanners, patients no longer have to endure the discomfort, mess, and remakes associated with traditional impressions. This modern alternative not only avoids the discomfort of impressions but also provides patients with the peace of mind that comes with advanced technology.
By seeing detailed images right on the screen, patients are better engaged in the process and can comprehend a 3D digital view of their oral anatomy. Further, the ability to review and discuss images in real-time with Dr. Horsey allows for a much more interactive patient/doctor relationship.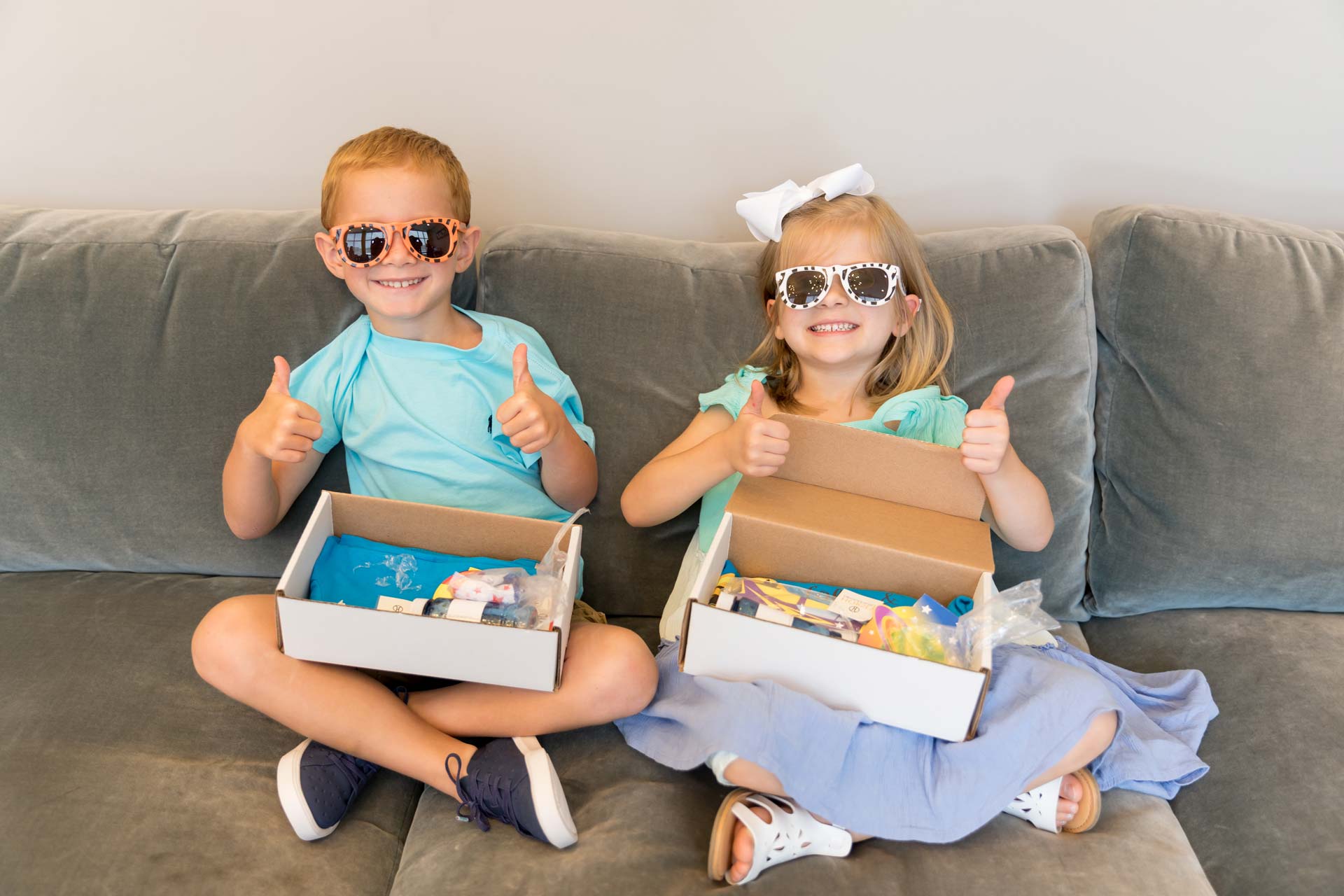 Clear Aligners For Kids
At Horsey Orthodontics, we believe that every smile is beautiful, and we want to help our patients feel great about theirs. Our clear aligners treatment straightens teeth to deliver more confidence and boost self-image.
Aligners can help adults straighten their teeth easily, and many of our patients report feeling more confident after their treatment. As for children, aligners help support proper teeth alignment and jaw development as they grow.
One common question patients ask is, "Do I have to wear metal braces?" The answer is no! Clear aligners are an invisible alternative to braces that allow you to discreetly straighten your teeth without making any drastic changes to your daily routine.
Orthodontic Treatment for Kids
Between the ages of 6 and 10, children's adult teeth are coming in. As they lose baby teeth, they are prone to developing dental issues such as crowding, spacing issues, underbites, overbites, and crossbites.
The American Association of Orthodontics (AAO) recommends all children have an orthodontic assessment by age 7. At this age, children will already have their permanent molars and incisors, which helps an orthodontist identify any irregularities in their growth and development.
Clear aligners can help correct and prevent any of these problems affecting your child's smile. They lead to greater confidence and better oral hygiene, along with reducing the need for more extensive corrective treatments when they're older.
Children who currently display a crossbite or overbite benefit from early orthodontic treatment. Because their jaw is still malleable, corrective treatments can be more effective and less expensive than those performed in adulthood.
Dr. Horsey will perform a comprehensive assessment to determine if your child is a good candidate for clear aligners. Even if your child does not require treatment at this time, an orthodontic appointment is still a good idea. The orthodontist can monitor their teeth and jaw development to ensure that future orthodontic treatments are timed appropriately.
With a proactive approach to your child's orthodontic care, you can avoid expensive corrective treatments later in life. Early intervention also helps reduce the total duration of treatment and overall cost of care.
Are Clear Aligners a Good Option for Kids?
Clear aligners can be a good braces alternative for kids who are able to follow directions well. They have to be worn for most of the day, and since they're removable, younger children might misplace them.
For children with impact teeth or more severe alignment issues, regular braces are a better option. During a consultation, Dr. Horsey will look at your child's teeth and explore different treatment options with you.
If you decide to proceed with clear aligners for your child, Dr. Horsey's team will obtain 3D digital scans of their teeth. Then, custom aligners will be ordered to fit their jaw and ensure proper alignment as they grow.
Each child's aligners are 100% unique and fitted to their individual needs.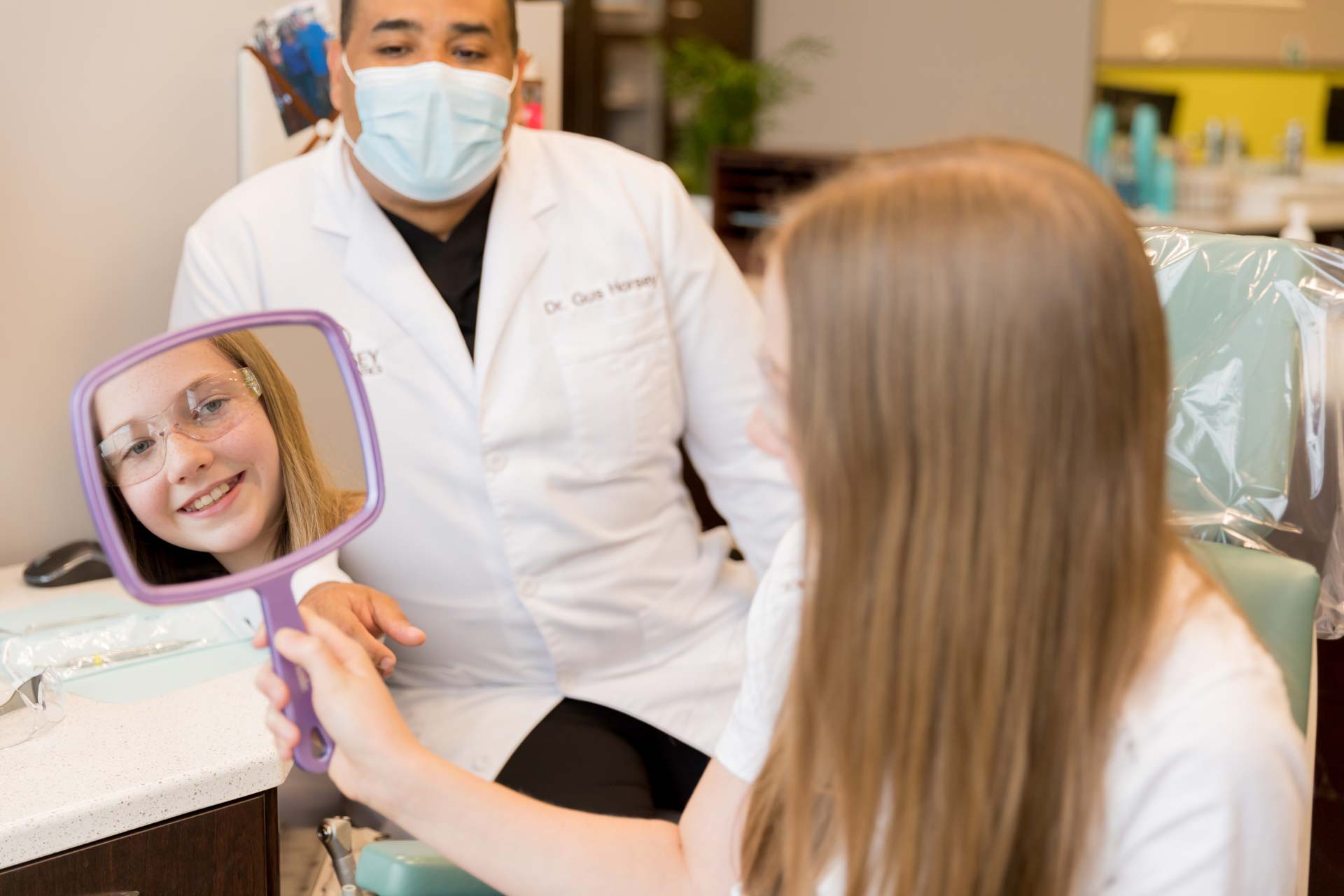 Clear Aligners For Teens
The most common time to straighten teeth is during the teen years. Permanent teeth have fully developed and issues like overbite, gaps, and misalignment become clear. However, your teen may be reluctant to agree to treatment with braces due to a range of reasons. The most common reasons teens avoid braces include:
Appearance – The impact of braces on a teen's appearance can often lead to reduced self-esteem or a more self-conscious smile.
Restrictions – Braces require your teen to give up popcorn, hard and sticky candies, gum, crunchy foods, and more.
Discomfort – Braces can irritate the lips and gums, and increase teeth sensitivity.
Effort – Teeth with braces are more challenging to keep clean and healthy.
Activities – Sports, band instruments, and other common activities can be limited or made more difficult when wearing braces.
Clear aligners are designed to provide straighter, healthier teeth without any of the drawbacks of braces using a series of clear, custom-fabricated aligners to gently and gradually correct the alignment of your teen's teeth. Their nearly invisible appearance means most people will not be aware of the treatment.
Aligners can be removed for eating, dental hygiene, and activities like sports or band. This allows your teen to live a more normal life, keep their mouth healthy, and maintain higher self-esteem during orthodontic treatment.
In most cases, clear aligners can correct issues with your teen's smile for about the same investment as traditional braces and generally requires fewer office visits. For more information or a free consultation, contact our office.
Clear Aligners For Adults
Many adults can wear custom-fitted clear aligners instead of braces. They offer a discreet, seamless corrective design that does not look any different from a normal smile. Although your teeth will be more aligned each day, no one can tell that you're wearing aligners.
Clear aligners have many benefits for people looking for alternatives to braces:
No Adjustments – Braces require adjustment every 4 to 6 weeks, but clear aligners simply need to be swapped out. You'll replace your aligners according to your orthodontist's recommendations and continue wearing them without ever interfering with your daily schedule.
Comfortable – Metal braces can be tight and painful as you get used to wearing them. Clear aligners are custom-made for each patient, ensuring a seamless, smooth fit. The thin, plastic material easily slides onto your teeth, and it does not rub against your cheeks or gums.
Removable – While you do need to wear aligners for most of the day, you can easily take them out to eat, brush, and floss. You can enjoy all of your favorite foods and take care of your oral hygiene without worrying about cleaning braces.
Easier Maintenance – You do not have to visit the orthodontist as often for follow-ups, which also means less time and money spent on corrective treatment.
Is It Worth Getting Clear Aligners as an Adult?
Absolutely. Aligners are completely transparent, so no one will know that you are receiving orthodontic treatment. You can wear them throughout the day, and they will not affect your appearance or speech in any way.
If you have mild to moderately misaligned teeth and would like to correct them discreetly, clear aligners are a great solution.
The Process of Getting Treatment With Clear Aligners
The process of getting clear aligners as an adult is easy. Our services are easily accessible to patients looking for an orthodontist in Richmond, Henrico, or Midlothian, VA. Our Richmond office exclusively provides treatment for adults.
The first step is visiting us for a consultation with Dr. Horsey. He will determine whether your teeth can benefit from aligners or if a different corrective treatment would be more effective.
We will also discuss the treatment process. Some patients struggle to consistently wear their aligners, but keeping them on for close to 24 hours a day is important. You can ask any questions you may have about aligners during your consultation. Dr. Horsey can also explore alternative alignment treatments with you if you would like to consider all your options before committing to aligners.
For patients who do decide to proceed with aligners, we will take 3D digital scans to create a model of your mouth. This model will be sent to the manufacturer to create your custom clear aligners.
Once your aligners arrive, you will start wearing them according to Dr. Horsey's instructions. You will replace your aligners approximately every two weeks, and we will schedule your follow-up appointments every 8 to 10 weeks.
Clear Aligners FAQ